Just type in a simple chord and try it out! The chords shown in red are FREE
We provide:
50 chords per key — see and hear each note
1st and 2nd positions for the guitar
Left hand/right hand suggestions for the keyboard

12 chords for each key are FREE! To access all the other chords you will need to register and pay a subscription fee — yeah, we know, but it helps us keep the site up-to-date...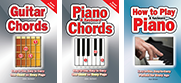 The chords work as part of an integrated programe of printed books from FLAME TREE MUSIC, so if you've bought one of our new titles (ranging from The Beginner's Guide to Reading Music, to Advanced Guitar Chords) you'll find a code at the back which will give you access to a year's free subscription.


If you have any comments or questions, please use the feedback button on each page.
FLAME TREE MUSIC
has created a series of best-selling, easy-to-use music books designed for players of all abilities and ages. Created for musicians, by musicians, these books offer a quick and practical resource for those playing on their own or with a band. They work equally well for the rock and indie musician as they do for the the jazz, folk, country, blues or classical enthusiast.